We went to CA in July for the Hartley Family reunion and had a great time (well, until the last day when Kennedyand Justin got a stomach bug). There are many many more pictures but unfortunately, I still don't have them...so I thought I'd post what I've got.
We flew out Tuesday and Kennedy did suprisingly well. She listened to David Williams on the ipod and had Yummy yums (M&Ms)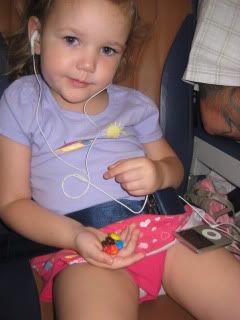 Wednesday we went to Disneyland with my Aunt Jeanine and cousins Taylor and Jonni. This is us on the Tram (see her excitement)
Kennedy was super stoked about riding Dumbo but it was a little more thrilling than she expected and she kept saying "I want to go home" for a while after it.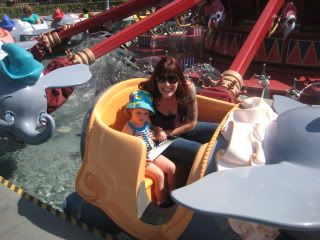 She eventually came around to having a fun day when we took her on It's a Small World. She LOVED the ride and kept asking to go back on it all day. Although, she said "It's a big world."
I was very surprised when Kennedy ran up and hugged Pluto. I didn't think she even knew who she was. She totally dissed Minny Mouse but Pluto go the lovin'.
We waited in line for quite some time to meet THE Mickey Mouse
Thursday we went to the beach with the rest of the family (except Emily and Paul who came that night...a wonderful surprise). Kennedy played with my cousins' little girls Kyah, Memphis, Mattison and Kaylee. Kyah and Memphis are also 2 but Kennedy's height is very noticeable around other 2 year olds. She towered over them, as usual. We also met Spencer and Damien. It was a windy day but much better than the hot hot temps we had the rest of the trip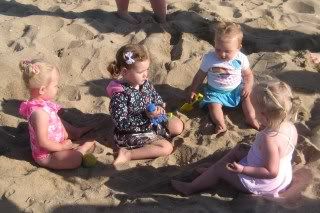 We went to the zoo Friday (I don't have pics yet) and then the park on Saturday. Here are all the girls together. The pic below is the same girls (with my Niece Elizabeth who couldn't make it) when Kennedy was 6 months old and the others trailing right behind.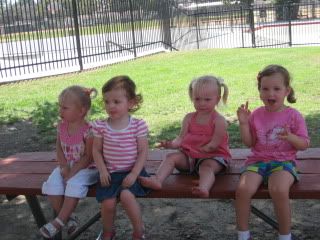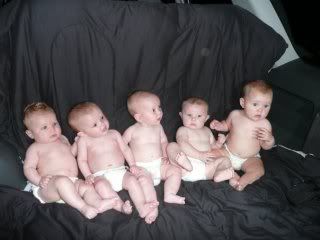 Sunday was going to be our aquarium day and back to Disney for Fireworks but I had 2 sick babies. Justin got to spend a day seeing what morning sickness is like ;) He understands now why I say this is the last.